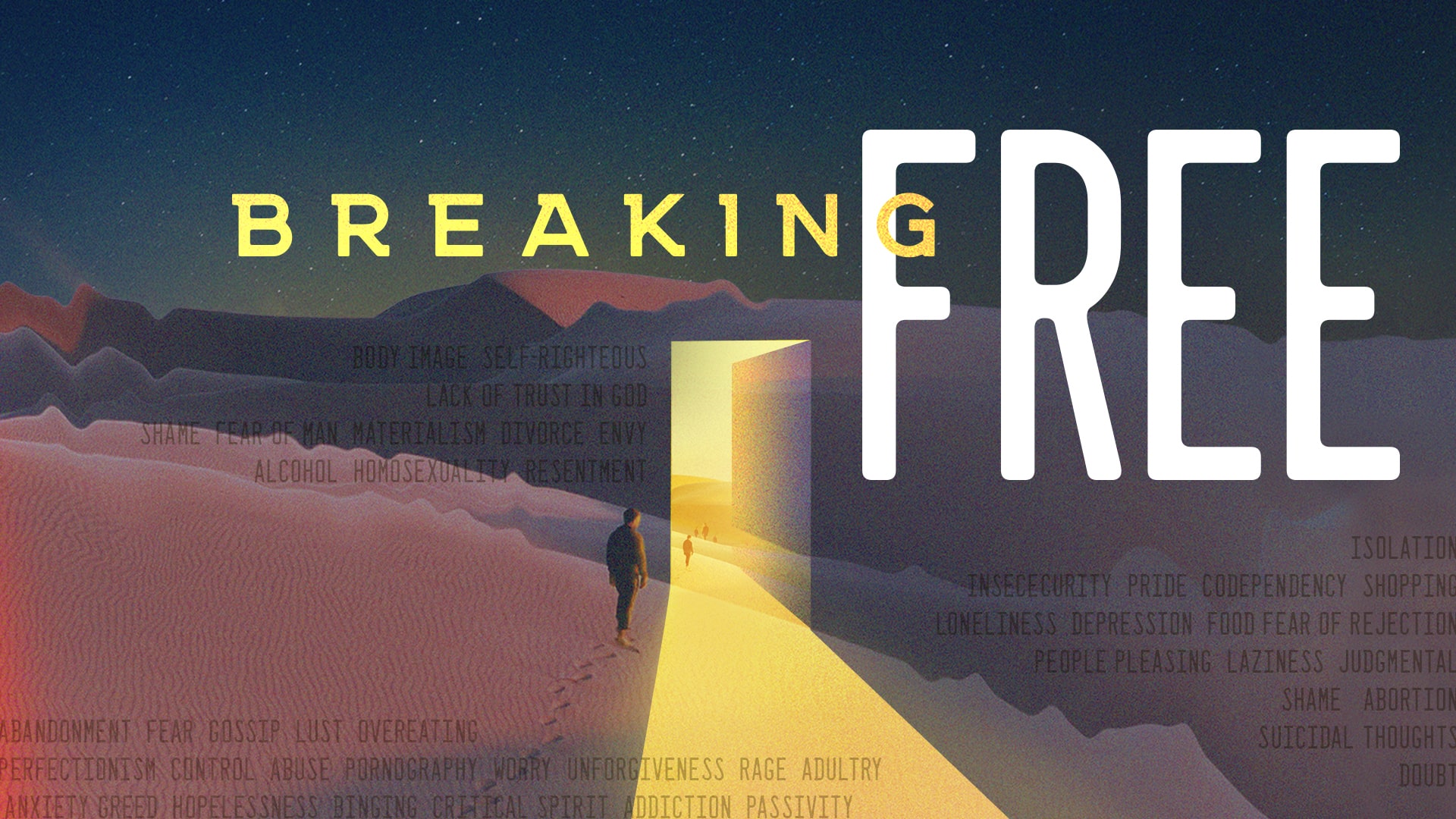 Breaking Free: Freedom Through Change
04.25.2021
Breaking free begins with trusting God and continues with confession for the purpose of healing. But if you stop there, the freedom you find will only be temporary. So in today's sermon we are looking at the next practical thing you must do to find lasting freedom…change.
Tyler's Three Main Points
1. To break free you must choose to change directions.
2. To break free you must choose to change who is in charge.
3. To break free you must choose to change the power you rely on.


Key Takeaways
If you stop at confession, the freedom the power and pain of sin will only be temporary. Lasting freedom requires change. Repentance reveals who truly wants to be free.


Change will cost you control, comfort, and possibly relationships. Many falsely believe that experiencing freedom through Christ is not worth the cost of surrender.


The book of Galatians emphasizes the freedom from trying to earn salvation through works and the freedom from walking in captivity of sinful desires.


Believers must not forsake freedom in Christ to go back to trying to earn salvation (legalism).  Don't use the freedom from the penalty of sin to return to the prison of sin.


All people are born sinful, enslaved to the flesh, and dead in their transgressions. Through the perfect life, death, and resurrection of Christ, God offers new life and freedom through faith in Christ.


For the believer, the prison cell door has been opened! Yet, too often, we live in the prison of sin instead of walking in freedom by fixing our eyes on Christ and following Him.


When you run with God, you leave your sin behind. Confession and repentance go hand-in-hand. Confession leads to healing and repentance leads to lasting freedom.


The definition of lunacy is to live the same way and expect different results.
 
As Romans 13:14 commends, "But put on the Lord Jesus Christ, and make no provision for the flesh in regard to its lusts." Cut off the triggers, circumstances, settings, and company leading to sin in your life.
To follow Christ to freedom, we must come under His authority. The choice to surrender is not a once-for-all decision, but a daily decision.


It is difficult to surrender control to Christ for 3 reasons:

1) We are experts at sin with a lifetime of training and well-worn patterns of selfishness.
2) We deem the cost of freedom is too great and are afraid of the unknown, to leave what is familiar and surrender control.
3) We fear God won't be able to deliver on His promise and satisfy us, save us, and heal us.


To break free requires the power of the Spirit. God has permanently given His Holy Spirit to all believers to regenerate us, guide us in truth, grant spiritual gifts, produce spiritual fruit, and help us to forsake sin and follow Christ.


Obedience is the right response to God's love, not a means of trying to earn God's love.


With Christ at the center, the repentant Christian life is to be defined by prayer, fellowship, the Word, and witness. Obedience to Christ is the only road to find lasting freedom.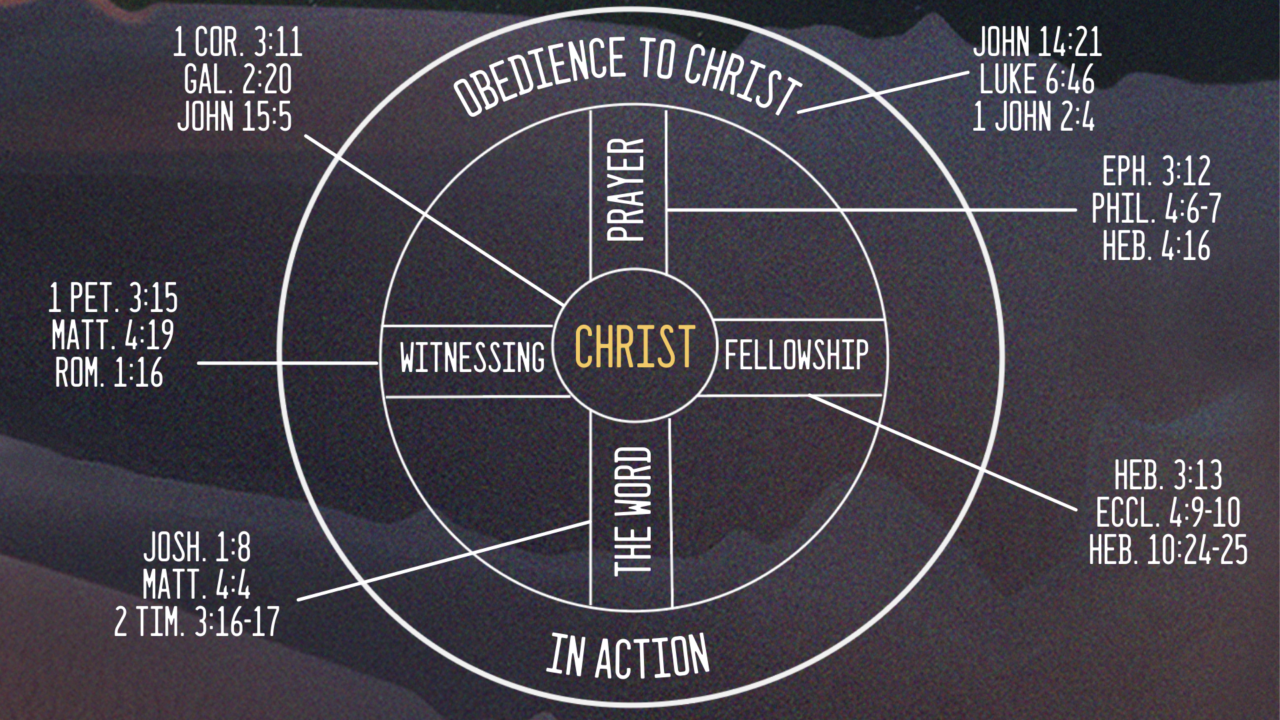 Discussion Questions/Application
Personal reflection:


Out of the three reasons Tyler mentioned for why it is difficult to surrender to Christ, what reason most resonates with you?


Why is Christ worthy of your complete surrender? What is at stake and what does He alone offer?


Discuss with your community group:


What are the triggers in your life that most often lead to exchanging a life of freedom in Christ for the shackles, shame, and pain of sin? What does "putting on the Lord Jesus  Christ and making no provision for the flesh" look like versus these triggers?


From the Wheel Illustration, what aspect(s) is most lacking in your life as a Christian in your battle against temptation? The centrality of Christ, prayer, fellowship, learning and living out the Word, and/or witnessing Him to others? As a group, encourage and pray for one another.

Passages Referenced

Tyler: Galatians 5:1-5, 13, 16-26; 2 Timothy 2:22; Romans 13:14; Luke 9:23.
Erin: Romans 8:32; Psalms 116:7; Psalms 34:18.